The centre signed a tripartite agreement- the "Karbi Anglong Agreement" on September 4, 2021, with delegates of Karbi outfits in New Delhi. The agreement was signed in the presence of Union Home Minister Amit Shah and Assam Chief Minister Himanta Biswa Sarma.
The agreement was signed by a delegation of six Karbi group members including Karbi People's Liberation Tigers (R), Karbi Longri North Cachar Hills Liberation Front, Karbi People's Liberation Tigers (Ceasefire), People's Democratic Council of Karbi Longri, Karbi People's Liberation Tigers (M) and United People's Liberations Army.
The Karbi group parts were acquired by Union Home Secretary Ajay Bhalla before the agreement was signed, prompting them to develop into the mainstream to guarantee law and order and peace in Assam.
Who are Karbis?
Karbis is a major ethnic community of Assam, which is presently split into different groups and parties. Basically, they are one of Northeast India's tribal groups, mostly residing in the Karbi Anglong and Dima Hasao (formerly North Cachar) hills districts.
Assam Chief Minister Himanta Biswa Sarma announced there was a true time in 2019 when Bodoland Accord was signed and continued "Now lower Assam has been converted into a peaceful area. Now we are working to sign an agreement with the Karbi Anglong group which is also a historic moment."
He also confirmed that the Assam government will take each and every reasonable step to make it a prosperous agreement and said that "the accord will help in great support to the state".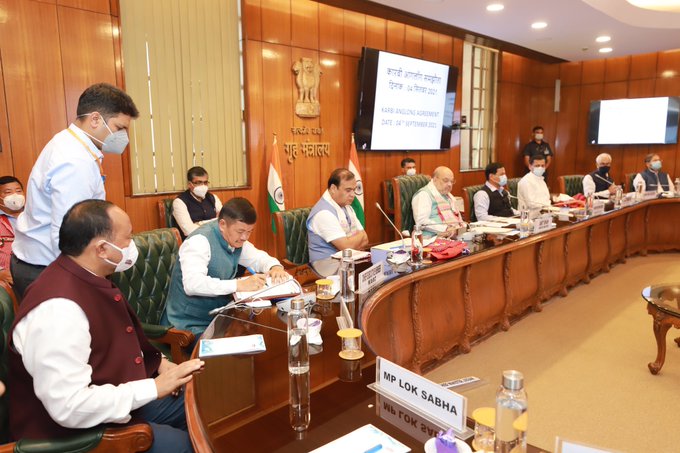 Why is Karbi Anglong Agreement important?
The Karbi Anglong Agreement is necessary as an insurgency by Karbi has had a long history in Assam, which has been identified by killings, ethnic struggle, abductions and taxation since the late 1980s. The agreement wishes to make an end to this violence and build unity in the state.
Around 1000 Karbi militants had abandoned before the Assam government in February 2021. Around 150 of those Karbi militants entered North Block where the Karbi Anglong Agreement was being signed and about 15 of them were present in the meeting.